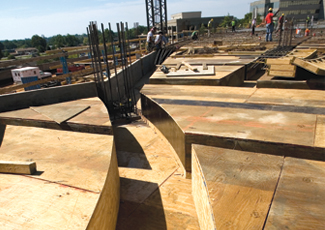 Concrete Forming Products: Helping You Take Form Pour After Pour™
Coast to coast, International Wood Industries, in conjunction with its parent company, UFP Industries, delivers all the wood-based concrete forming products you need to get your job done right, pour after pour. We're always working on new cost- and time-saving innovations your building projects.
Whether you need pile cushions, lumber or forming products for bridges, highways, stadiums, commercial structures or parking structures, we have what you need for your next concrete forming project. IWI and UFP Industries have provided concrete forming products to a variety of projects.
We provide related products, too; like posts, timbers and pressure-treated plywood. We'll even bring them to your job site on our own fleet of trucks.