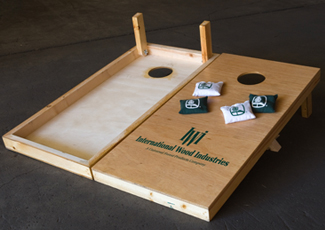 Outdoor Games and Components
With over four decades in the wood industry, International Wood Industries has perfected the process of manufacturing finished wooden games like the popular Cornhole beanbag toss game. Whether you need a custom one-off game component or a mass production of virtually any wood game, you can count on IWI to produce precision parts through our use of cutting-edge automated machinery.
Our skilled machinists and technicians employ a variety of panel-sizing saws, drills, routers, shapers and other fabrication tools to turn raw materials into the components you need.
We also have specialty machines that insert hardware, nail, staple and laminate to your specifications. The result is a high-quality product you and your customers can consistently count on.