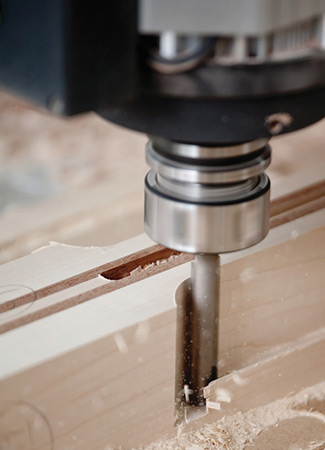 Machining Capabilities
At International Wood Industries, we offer much more than your typical wood products supplier. In fact, our automated machinery gives us the tools to be your single source for any component. Our flexible manufacturing capabilities allow us to produce custom and semi-custom finished goods, components and cut-to-size panels with fast turnaround times. From high volume parts to one-off production, we can handle it all.
IWI employs three computer numeric controlled (CNC) machining centers, panel saws, boring machines and other production equipment to accommodate your machining needs. We can custom cut, shape, drill and form almost any material within a 5' x 12' dimension and up to 5" thick. Our high volume drum printers allow us to print a company name or logo on your product. And thanks to our on-site programming, we meet your custom needs quickly. Contact us and we'll have one of our design engineers work with you to provide a solution for your next project.
We take pride in improving efficiencies with our state-of-the-art equipment as well as our continuous improvement initiatives. At IWI, our mission is "Safety, Quality and Innovation". Our internal design services, advanced machinery and skilled production operators allow us to deliver components and fully-assembled or knock-down crates at competitive prices.