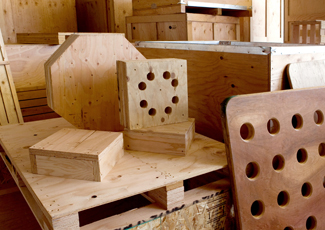 Industrial Wood Products
Our precision machining capabilities, expansive inventory and just-in-time service provide our customers with value that can only be described as priceless. From cut-to-size panels and dimensional lumber, to pile cushions and construction materials, to our full line of custom boxes, crates and collapsible shipping containers, we help you ship, store and operate your business cost effectively.
IWI's Automated Storage and Retrieval System (ASRS) pallet boards are designed for RFID capability, as well as for highly demanding conveyor systems. Whether you're moving parts of a drilling rig to the North Slope or industrial motors to Michigan, we have the solutions you require for cost-efficient transport of your products.
Do you need strapping tools and other packaging supplies? Not sure how to go about shipping that special package for guaranteed safe delivery? We've got you covered. Contact us for information on custom-crating solutions, including an evaluation and quotes on all your packaging needs.
Industrial products include:
Collapsible boxes
Laminated plywood blocks for pallets and construction
Industrial seating blanks for tractor seats, bar stools, etc.