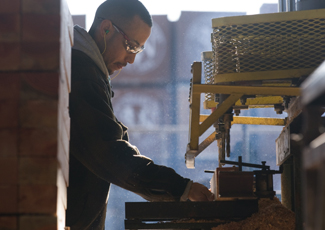 About International Wood Industries
For over 40 years, International Wood Industries, Inc. (IWI), headquartered in Thornton, Calif., has been a leading manufacturer and direct supplier of durable, high-quality bulk storage containers, shipping crates and custom containers to the moving and storage industry and members of the International Association of Movers (IAM).
Since the company's inception as a manufacturer of wooden boxes and containers for the moving and storage industry on the West Coast, IWI has expanded to become a global supplier of lift vans, motorcycle crates, storage vaults, overflow boxes, code J boxes as well as custom crating and packaging solutions.
Additionally, the IWI product line has evolved to include agricultural shipping and storage bins and custom-built storage containers, as well as custom plywood and lumber products for many industrial applications. From automated storage and retrieval pallet boards (ASRS) for our large warehouse and logistics customers to pile cushions, lumber and panels for our construction customers, core boxes for our mining customers and mud box crates for the oil and gas industry, we have what you need when you need it and at a great value.
Global Reach
IWI ships internationally from strategic locations throughout the continental United States and Hawaii.. We manufacture ISPM (International Standards for Phytosanitary Measures)-compliant containers that have allowed our business to expand and serve the needs of customers in industries throughout the world — offering diverse, custom-manufactured products with just-in-time shipping.