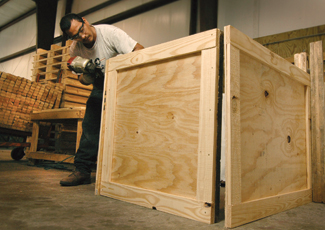 International Wood Industries Products and Services
As a leading manufacturer of bulk shipping and storage bins, pallets and pallet components, fruit and nut bins, moving boxes, wine and cheese boxes, custom fabricated plywood components, pile cushions, and a wide variety of other specialized wood products for industrial applications, International Wood Industries continually strives for innovation, convenience and value in the products and services we offer our valued customers.
For more than 40 years, IWI has been a worldwide source for quality agricultural and industrial wood products. From our beginnings as a wooden household goods manufacturer— producing mainly moving boxes — our product lines and services have expanded to meet the needs of customers and industries throughout the world. Today our products are employed in the packaging and moving and storage industry; the concrete forming and machining industries; the agricultural and food processing industries; the mining, gas and oil industries — and we even know how to have a little fun supplying quality wooden outdoor games and game components.