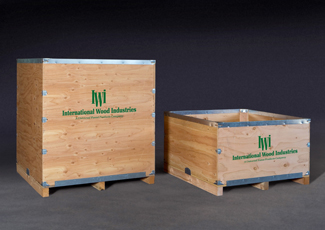 Harvest and Fruit Bins
Whether you need nut bins for almonds, walnuts, pistachios, hazelnuts, apples, pears, raisins or stone fruit, International Wood Industries delivers. For more than forty years IWI has been the supplier of choice for major industry growers, packers and shippers.
Recognized as a leading supplier of wood bins, crates, boxes, pallets and other storage and container solutions, IWI has been building quality since day one, using only agency certified mills (APA, TECO and PTL – Pittsburgh Testing Laboratory) for our agricultural wood bins.
IWI also supplies wood and metal replacement parts for our agricultural harvest and fruit field bins, allowing you to extend the life of the products you've put your trust in.
Standard sizes:
Nut Bin - almonds, walnuts, pistachios, prunes, hazelnuts, garlic, pecans
48" x 48" x 52" tall (outside dimensions)


Fruit Field Bin - stone fruit, apples, pears, apricots, raisins, rootstock, sweet potatoes
47" x 47" x 28" tall (outside dimensions)
Features:
Precision-routed venting
Custom hardware options
3" x 4" or 4" x 4" stringers
Printed company name or logo
Heated-treated and ISPM 15 export compliant
All bins can be customized to your specifications.
Need agricultural bin replacement parts? Contact us today.