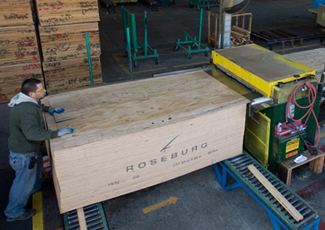 Cut-to-Size Panels and Lumber
For the last 40 years, International Wood Industries has grown into one of the largest suppliers of pre-cut plywood in the material handling industry. IWI's cut-to-size service not only specializes in pallet boards for material handling, but particleboard for the rack industry as well. Our custom plywood sizes meet your needs for 5' x 10' in 1/4" thickness to any size smaller.
We can help you determine the plywood thickness for specific load requirements, or develop specific grades for desired performance. IWI will radius corners, ease edges, cut code plate slots, route hand holes, drill patterns and fulfill virtually any specification you require.
Construction and manufacturing industries count on IWI for a wide variety of standard and built-to-specification products because IWI works with a wide variety of species and thicknesses of lumber, even oversized sheets. Our machinists saw, drill and rout to tight tolerances, then perform precise finishing work, including bolting and painting.
We custom-manufacture plywood and lumber products for a variety of industrial applications:
Plywood components – cut-to-size, drilled, routed, shaped, slotted or fabricated
Laminated plywood blocks for construction
Laminated plywood blocks for pallets
Industrial seating blanks for tractor seats, bar stools, etc.
Over length, over width plywood