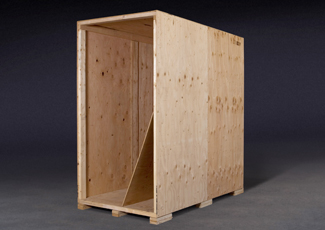 Worldwide Supplier of Type II Lift Van Boxes
International Wood Industries standard lift van is available either assembled or knock-down (KD), and holds approximately 196 cubic feet (custom sizes available upon request). Crates can be shipped door-to-door domestically or overseas.
Our Type II lift vans are modular and fit inside a standard 40' and 20' overseas shipping container. Type II boxes can also be used for domestic shipping or as temporary storage containers. Type II lift vans are SDDC-approved (#218 and #234) and constructed with heat-treated lumber and plywood to meet IPPC-ISPM 15 standards for international trade.
Standard size:
195 Cube - 45" x 84.75" x 87" (outside dimensions)